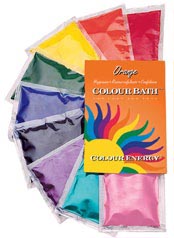 Information about Chakra Color Bath
Chakra Color Bath is made in Canada and is organic and non-toxic. It is safe to use, and great for people of all ages as well as anyone with skin sensitivities or allergies.
Color Bath is known to change the colors of your aura. It is a proven Chakra tool that increases these energy center's vitality. By simply bathing in a pure hue, you can energize the correlating color's Chakra on an emotional, mental, physical and/or spiritual level.
For an aromatic healing bath & to intensify its effect, you can also add a few drops of Chakra Essential Oil Energy Blends to your bath.
What is Color Bath made of?
Note: Color Bath is not a synthetic agent or a chemical dye. The color pigment is totally natural and very vibrant. Color itself is a healing vibration and the stronger & more pure the color, the more powerful the energy! Color Bath was created for its color therapeutic healing properties. A simple color treatment that helps to balance your Chakra system & help you to feel vibrant.
Color Bath is an organic combination of water, glycerin & non-toxic organic color. The colors are combinations of the four ether elements - carbon, oxygen, hydrogen & nitrogen - and the colors that you see in a rainbow are created by these same 4 elements. Color Bath contains no FD&C colors, perfumes or oils which makes it ideal for children or people with sensitivities. No animal testing.

Color Bath is not a synthetic agent or a chemical dye. When mixed with water (or water with 100% pure essential oils), it will not stain or leave residue providing the surface of the tub is in good repair and is free from dirt, oils and cleaning residue. It is, however, a good idea to fill the tub with water before adding the color bath. Although it very seldom happens, if there is any apparent stain after having a bath, it is only because the color bath adhered to the residue of chemical cleaning agents that have been used. Using a shammy or Mr. Clean Magic Wipes will get rid of it.
Caution: Do not mix with any other bath products other than our essential oils. May cause staining or foaming in plastic, fiberglass, rubber, hot tubs, swimming pools, whirlpools or Jacuzzis. Avoid contact with clothing and light colored fabrics.
Why bathe in color?
Each color of the spectrum of light vibrates at a different frequency, thereby giving you its own special qualities & influences. Color has its own powerful language. Since our human development begins in a water environment (the womb and the giver of life), imagine the strength and power when color and water are combined! Color Bath is a fun and easy way for our body to absorb the benefits of vibrational frequencies. Bathing in the natural element of water combined with color creates an incredible healing atmosphere that the body recognizes and enjoys. Color Bath is also known to change the colors of ones aura. It is a proven Chakra tool that increases an energy centre's vitality.
Information About Color Energy Therapy
Information About Chakras