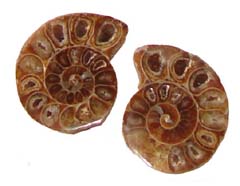 Information about the healing meanings of Ammonite fossils is included with purchase, as well as a pamphlet about the metaphysical meaning of fossils & stones and how to use them for healing.
Ammonites are an extinct shelled cephalopod with a coiled, spiral shape. Their extinction coincided with that of the dinosaurs in the Paleozoic Era, Devonian Period, around 350 to 400 million years ago. Similar in appearance to a ram's horn, Ammonite's name comes from Ammon, an Egyptian God who took the form of a ram.
Ammonite Meaning
Ammonites are powerful healing fossils. Symbolizing continual change and evolution because of their spiral shape, they are often used for activating your Kundalini and other life path energies.
Other healing meanings of Ammonite include the following:
stimulates the flow of Qi - your life force - through your body

when placed in home, attracts happiness, health, prosperity and success

draws off & purify negative energies and releases them as a positive and loving life force energy

increases your stamina and vitality

stimulates your survival instincts

helpful for overall well-being and longevity

helps you to persevere

reminds you there is hope

helps with depression

activates and enhances metaphysical powers

helps with inter-dimensional exploration

activates your Third Eye Chakra, especially when placed upon it

powerful karmic cleanser when placed on Third Eye Chakra as well

releases mental obsessions

takes you deep into your centre

activates personal empowerment and spiritual will

excellent for anything that needs structure and clarity

excellent earth healing stone

thought to help with labour pains, cell metabolism, osteomyelitis and tinnitus

helps with blood pressure, ears, lungs, degenerative disorders
Information about the Metaphysical Meaning of Fossils