Information about the healing meanings of Andalusite is included with purchase, as well as a pamphlet about the metaphysical meaning of healing stones & how to use them.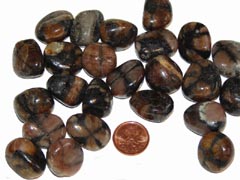 Andalusite is a common metamorphic mineral which forms under low to high temperatures and low pressure. Chiastolite is a variety of the mineral Andalusite and is also known as the Cross Stone. Chiastolite commonly contains dark inclusions of carbon or clay which form the cross or cruciform pattern.
Andalusite Meaning in Healing
A powerfully protective stone, Andalusite was used in ancient times to ward off ill wishing and curses.
Continue reading about the Meanings of Andalusite
Information about the Metaphysical Meanings of Healing Stones