Information about the metaphysical meanings of Astrophyllite is included with purchase, as well as a brochure about the metaphysical healing meanings of stones & crystals and how to use them.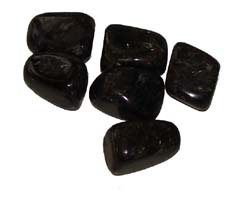 Astrophyllite is a rare titanium silicate mineral that has a wonderful sub-metallic bladed, radiating stellate gleam. Its variable luster can be nearly metallic in one specimen and glasslike in another. The name Astrophyllite comes from two Greek words – "Astron" meaning star and "Plyllon" meaning leaf because of its beautiful star & leaf like patterns.
The Meaning of Astrophyllite
Astrophyllite is a personal power stone that helps you to access information deep inside yourself that help you to find and achieve your purpose in life. A light in the darkness, Astrophyllite can show you that "if one gate is closed, the Universe unlocks another for you" to help you align with your life's purpose.
Other metaphysical meanings of Astrophyllite include the following:
helps you to grow spiritually as well as in self-knowledge and self-acceptance

helps you to truly love yourself and let go of your past & associated guilt and appreciate positive things happening in your present life instead

infuses your entire system with light, illuminating your true self and helping you to recognize your life purpose and goals

helps you to make profound changes necessary to move forward quickly in your life journey and discover your true path

gives you the strength and determination to deal with setbacks and find creative and realistic solutions

helps you to feel enthusiastic & joyful and attract positive like-minded friendships & relationships

activates and aligns all of your Chakras

believed to activate your eighth Star Chakra, aligning your Soul and Earth Star Chakras

helps you to let go of unhealthy or addictive behaviour patterns

helpful in astral travel as it is a stone for psychic protection and helps you to navigate out of body journeys with safety

calms and stabilizes your emotions

helps you to break emotional self-defeating patterns of behaviour

helps you to feel generous, compassionate and patient in your relationships

enhances your psychic abilities

helps you to see your current relationships and circumstances as they really are

helps you to see and understand the duality of your nature

treats depression

helps you to focus and concentrate

heals emotional disharmony that prevents the acceptance of love

beneficial for reproductive and hormonal systems, PMS and menopause
Information about the Healing Meaning of Stones