Information about the healing properties of Blue Apatite is included with purchase, as well as a pamphlet about the metaphysical healing properties of stones & how to use them.
Blue Apatite Healing Properties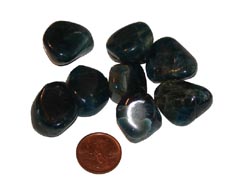 Blue Apatite connects you to a very high level of spiritual guidance. It opens your Throat Chakra, helping you to speak in public & enhancing good communication. Blue Apatite also heals your Heart Chakra & emotional dis-ease.
Apatite Healing Properties
Apatite itself is also a stone of manifestation that has many inspirational properties. Continue reading about Apatite Properties.
Information about the Healing Properties of Stones