Information about the healing meanings of Blue Kyanite is included with purchase, as well as a pamphlet about the meaning of healing stones & how to use them.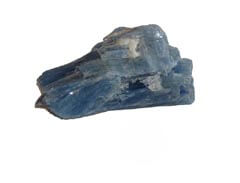 Blue Kyanite Stone Meaning
Blue Kyanite strengthens your voice & heals your throat and larynx. It is very useful for performers and public speakers.
Blue Kyanite also has the healing meanings associated with any type of Kyanite, as follows:
Kyanite Stone Meaning
Kyanite itself is excellent for attunement & meditation. Other healing meanings of Kyanite include:
enhances creative expression, truth, and communication

powerful transmitter and amplifier of energy

stimulates your psychic abilities and intuition

helps your spiritual energy to manifest in thought

connects you to your spirit guides

instills compassion

brings spiritual integrity and maturation

facilitates dream recall, promotes healing dreams

helpful for those making transition through death

aligns all of your Chakras

doesn't hold negativity so never requires cleaning

encourages self-expression, communication and speaking your truth

cuts through fears and blockages

dispels illusion, anger, frustration and stress

increases your capacity for logical and linear thought

stimulates the higher mind

lowers blood pressure

natural pain reliever

treats muscular disorders, fevers, the urogenital system, thyroid and parathyroid, adrenal glands, throat and brain

heals infections

releases excess weight

supports the cerebellum and motor responses of the body
Information about the Healing Meaning of Stones