Information about the healing meanings of Cassiterite is included with purchase, as well as a brochure about the metaphysical meaning of stones & how to use them for healing.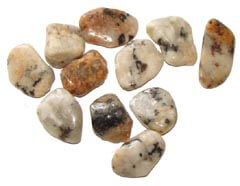 The primary ore of tin, Cassiterite is a tin oxide mineral that most often occurs in hydrothermal veins & pegmatites, typically associated with granite intrusions. A durable mineral, it is also often found in alluvial placer deposits & igneous rocks. Its color can be black, yellow, brown, red or white. Cassiterite is quite wide spread & can be found in Australia, Bolivia, Brazil, Malaysia, Mexico, Namibia, the United Kingdom & the United States.
Cassiterite's name comes from the Greek word "Kassiteros" which means tin; it could also come from the Phoenician word "Cassiterid" referring to either Spain or Ireland & Britain, "the islands off the western coast of Europe", ancient sources of tin in pre Roman times.
Cassiterite Meaning of Healing
A stone of divinity, Cassiterite is also referred to as the "tin stone". It has a deep grounding energy that has a strong Earth Chakra connection.
Other metaphysical healing meanings of Cassiterite stones include the following:
powerful grounding stone, both physically & spiritually

protects you from physical danger

balances your energy & energizes you according to your needs

helps to bring Divine loving light into your body

is excellent for deep meditation

balances all of your chakras, particularly your Root Chakra

removes energetic blockages & helps you to feel more balanced

helps you to let go of negative energy that holds you back in your life's journey

helps you to focus & think clearly

helps you to manifest your desires, dreams & hopes, as well as attract prosperity

encourages to you see & let go of ideas and ideals that no longer suit your best interests

heals old issues of rejection, abandonment, disapproval or prejudice, helping to dissolve the pain & negative energy associated with those feelings

encourages deep healing at the soul level

instills compassion & encourages you to forgive those who have caused you hurt and grief

helps you to feel hopeful & optimistic

helpful for problem solving, particularly mathematics

aids shamanic journeying

helpful stone for anyone who has been told they have a terminal illness

helps them deal with outstanding issues

thought to ease suffering associated with death, also helping to guide the souls of the deceased to eternal light

also thought to have great power in helping with the process of reincarnation

used in the treatment of eating disorders, compulsive behaviors, obesity & hormonal imbalances
Information about the Metaphysical Meaning of Stones