Information about the healing properties of Clear Fluorite is included with purchase, as well as a brochure about the healing properties of stones & how to use them.
Clear Fluorite Stone Healing Properties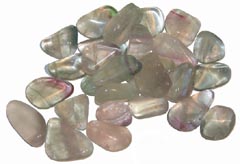 Clear Fluorite stimulates your Crown Chakra. Its other healing properties include:
energizes your aura

harmonizes your intellect & spirit

aligns all of your Chakras

brings universal energy into your physical body

enhances the effect of other crystals

can clear obscured vision
Clear Fluorite also has the healing properties that are inherent to any type of Fluorite.
Fluorite Healing Properties
Fluorite is highly protective, especially on a psychic level, and a powerful healing tool. Continue reading about the Properties of Fluorite.
Buy Clear Natural Fluorite Stone
Information about the Healing Properties of Stones