Information about the healing meanings of Emerald Calcite is included with purchase, as well as a pamphlet about the metaphysical meaning of healing stones & how to use them.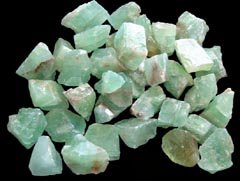 Emerald Calcite Healing Properties
Emerald Calcite is a very deep healing Heart Chakra stone. Its properties include:
clears old, stagnant & blocked energy, allowing you to find love (both for yourself & others)

helps you to break old relationship habits & patterns that no longer work in your best interest

allows you to surrender or to let go of love issues which have stopped you from finding your true love or soul mate

shows your heart the way to happy & healthy relationships

vibrates to the number 3, joy & creativity

removes toxins from the body

alleviates mental fear

aids mental clarity

soothes anxiety

helps the kidneys, spleen & pancreas

calms turbulent energies
Emerald Calcite also has the healing properties that are inherent to any type of Calcite.
Calcite Healing Properties
Calcite is a powerful energy amplifier and cleanser. Simply having a piece in a room can clear negative energies and heighten your energy ... continue reading about the Healing Properties of Calcite.
Information about using the Healing Properties of Stones