Information about the healing meanings of Green Fluorite is included with purchase, as well as a brochure about the metaphysical meaning of healing crystals & how to use them.
Green Fluorite Meaning of Healing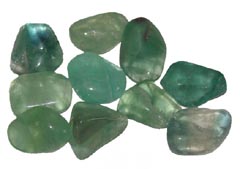 Green Fluorite is particularly effective at absorbing negative energies within the environment. Some of its other healing meanings include:
grounds excess energy

dissipates emotional trauma

clears infections

brings information up from the subconscious mind

accesses intuition

an effective auric, Chakra & mental cleanser

dispels obsolete conditioning

relieves stomach disorders & intestinal cramps
Green Fluorite also has the Meanings all forms of Fluorite.
Information about the Metaphysical Meaning of Healing Crystals