Information about Green Moss Agate metaphysical meanings is included with purchase, as well as a pamphlet about the metaphysical healing meanings of stones & how to use them.
Metaphysical Meaning of Green Moss Agate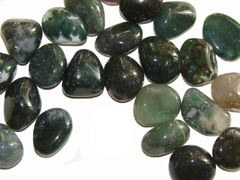 Green Moss Agate is a stabilizing stone that is strongly connected with Nature. Its metaphysical healing meanings include:
helps you to see the beauty in all you behold

refreshes your soul

a stone of new beginnings

releases spiritual or emotional blockages

attracts abundance

improves self-esteem

strengthens positive personality traits

reduces fear and deep-seated stress
Continue reading about Green Moss Agate Meanings.
Green Moss Agate Stones for Sale
Other kinds of Agate Stone for Sale
Information about the Metaphysical Meaning of Stones