Information about the healing properties of Green Quartz is included with purchase, as well as a pamphlet about the metaphysical healing properties of stones & how to use them.
Note - Green Quartz can fade if left in the sunlight too long.
Green Quartz Healing Properties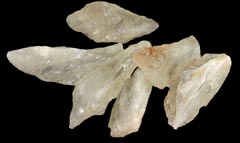 Green Quartz is also known as Prasiolite, Praziolite or Vermarine.
Its energy inspires love, creativity & intuition and it resonates with your Heart Chakra.
Continue reading about the Properties of Green Quartz
Information about the Metaphysical Properties of Stones
Information about Your Chakras