Information about the healing meanings of Green Tourmaline is included with purchase, as well as a pamphlet about the metaphysical meaning of healing stones & how to use them.
Green Tourmaline Meaning - Healing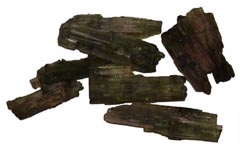 Green Tourmaline is also known as Verdelite. It is an excellent healing stone and helpful for visualization. Some of its healing meanings include:
resonates with your Heart Chakra

promotes compassion, tenderness, patience & a sense of belonging

brings balance & a joy of life

transforms negative energy to positive

dispels fears

helps you to open & patient with others

rejuvenates & inspires creativity

helps you to see all the possible solutions to problems & to select the one that is the most constructive

attracts prosperity & abundance

overcomes problems with father figures

helps in the study of herbalism & enhances the application of herbal remedies

quiets the mind & helps you to sleep

fortifies the nervous system

treats the eyes, heart, thymus, brain & immune system

facilitates weight loss

relieves CFS & exhaustion

helps in realigning the spine & with strained muscles

useful detoxifier that heals constipation & diarrhea

can reduce claustrophobia & panic attacks

beneficial for hyperactive children
Green Tourmaline also has the healing meanings that are inherent to all colors of Tourmaline

Tourmaline Healing Meanings
The powerful vibration of Tourmaline cleanses, purifies & transforms dense energy into a lighter vibration. It grounds spiritual energy, cleanses & balances all of your Chakras & forms a protective shield around your body. Continue reading about the Metaphysical Meanings of Tourmaline.
Information about the Metaphysical Meaning of Stones