Information about the healing meanings of Infinite is included with purchase, as well as a pamphlet about the metaphysical meaning of healing stones & how to use them.
Infinite is a variety of Serpentine mixed with white Chrysotile that is found only in South Africa. Known as the "Healer's Stone", its healing energy is believed to be superior to other types of Serpentine.
Infinite Stone Meaning of Healing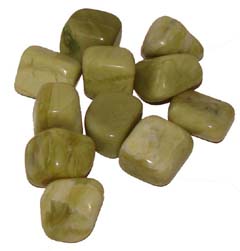 A powerful earth elemental stone, Infinite stones renew & align your energy with Mother Earth. As with all green stones, it has a soft nurturing energy that heals your Heart Chakra & emotions, which in turn helps you to love & accept others and, more importantly, yourself.
Other healing meanings of Infinite stones include the following:
removes negative energy & helps you to feel positive

heals & protects your auric field

shields & protects you from electromagnetic & energetic pollution

has a loving angelic energy that raises your own personal vibration to a higher level

opens your Crown Chakra

activates & stimulates Kundalini energy

increases the powers of energetic healing such as Reiki treatments

helps you to understand the spiritual meaning of life & live in the present moment

helps you to let go of concerns relating to your day to day life

eases worries & helps you to relax

helps you to have restful sleep

instills a sense of inner peace & oneness with the world around you

encourages the development of your psychic abilities & intuition

stimulates healing on all levels – physical, emotional & spiritual

helps with the pain of grief, loss, separation & betrayal

useful for deep meditation and communicating & connecting with Spirit, angels & spirit guides

lessens any needs you might have for control, especially over others, & let go of desires to seek approval &r praise

encourages you to take on new ventures in life & supports you in doing so

works at a cellular level to remove energetic blocks & negative patterns that are holding you back

helps to relieve emotional as well as physical pain

benefits anyone who feels drained & tired

fights fatigue & gives you stamina

treats joints & soothes muscles

useful in the treatment of connective tissue disorders

strengthens your immune system

encourages energetic cellular regeneration
Information about the Metaphysical Meaning of Stones