Information about the healing meanings of Pink Tourmaline is included with purchase, as well as a brochure about the metaphysical meaning of healing stones & how to use them.

Pink Tourmaline Meaning - Healing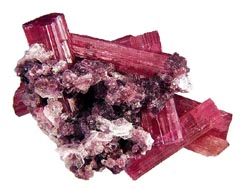 Pink Tourmaline's energy relates to creativity & conceiving the "new". It is an "aphrodisiac" that attracts love in both the material & spiritual world. Its other healing meanings:
gives you assurance that it is safe to love

helps you to trust in the power of love

helps you to love yourself so that you can hope to be loved by others

releases emotional pain & old destructive feelings

encourages feelings of joy & enthusiasm for life by helping you to let go of destructive tendencies

helps you to have hope for the future

cleanses and stimulates your Heart Chakra & Crown Chakra

has a peaceful & relaxing energy

helps you to be compassionate & wise

stimulates receptivity to healing energies

balances a dysfunctional endocrine system

treats heart, lungs and skin
In addition, Pink Tourmaline has the Metaphysical Meanings of all types of Tourmaline.
Information about the Metaphysical Meaning of Stones
Information about Your Chakras