Information about Red Jasper metaphysical properties is included with purchase as well as a pamphlet about the metaphysical properties of stones & how to use their energy for healing.
Other kinds of Jasper Stone for Sale
The Metaphysical Properties of Red Jasper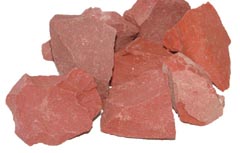 The vibration of Red Jasper is gently stimulating. Other metaphysical properties of Red Jasper stones include:
grounds energy

helps you to rectify unjust situations

brings problems to light before they become too big

gives you insight into even the most difficult situations

makes an excellent "worry bead", calming your emotions when played with

helps dream recall when placed under the pillow

stimulates your lower Chakras, especially the Root Chakra

cleans & stabilizes your aura & strengthens your personal boundaries

Red Jasper is a stone of health

strengthens & detoxifies the circulatory system, blood & liver

dissolves blockages in the liver or bile ducts
Red Jasper also has the metaphysical properties of any type of Jasper.
The Metaphysical Properties of Red Jasper
Jasper is known as the "supreme nurturer", sustaining and supporting you during times of stress. Continue reading about Red Jasper Properties.
Other kinds of Jasper Stones for Sale
Information about the Metaphysical Properties of Stones