Information about the metaphysical healing meanings of Rock Crystal is included with purchase, as well as a pamphlet about the metaphysical meaning of healing crystals & how to use them.
Rock Crystal is a type of Clear Quartz with an exceptional high level of clarity, luster & transparency that is rarely found in natural Quartz.
Also known as Optic or Optical Quartz, it has a beautiful purity & resembles crystallized frozen clear water.
Rock Crystal Meaning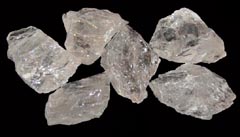 Continue reading about the Metaphysical Meanings of Rock Crystal.
Information about the Metaphysical Meaning of Crystals