Information about the healing meanings of Ruby is included with purchase, as well as a brochure about the metaphysical meaning of stones & how to use their energy for healing.
Ruby is the red variety of Corundum, an exceptionally hard & tough mineral and the third hardest one in the world after Diamond & Moisanite. The blue variety of Corundum is Sapphire.
Ruby Stone Meaning of Healing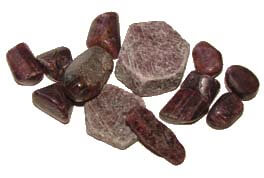 The vibration of Ruby makes it an excellent stone for energy & imparting vigor to life. Its other healing meanings include:
energizes & balances

helps you to feel motivated & set realistic goals

stimulates your Heart Chakra & balances the physical heart

encourages you to "follow your bliss"

powerful shield against psychic attack

helps you have positive dreams & clear visualization

stimulates the pineal gland

a stone of abundance that helps you to keep your wealth & passion

eases anger or negative thinking & helps you remove anything negative in your life

encourages dynamic leadership

helps you to be positive & courageous

helps you to concentrate & your mind to be sharp

heightens your awareness

helps you to be strong during disputes or controversy

overcomes exhaustion & lethargy

increases potency & vigor

calms hyperactivity

detoxifies the body, blood & lymph

treats fevers, infectious disease & restricted blood flow

stimulates the adrenal glands which is vital to your well-being, particularly in times of stress

stimulates the kidneys, reproductive organs & spleen
Ruby also has the Healing Meanings of Corundum.
Information about the Meaning of Healing Stones