Information about Starry Jasper meanings is included with purchase, as well as a pamphlet about the metaphysical meaning of healing stones & how to use them.
Starry Jasper is a combination of red, black & white Jasper with veins of Pyrite which give its starry sparkle effect.
Starry Jasper Meaning - Healing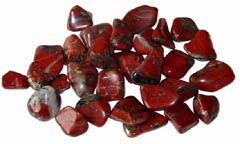 Starry Jasper shields you from negative energy or harm. It is a very protective stone, particularly because of the inclusions of Pyrite. Its other meanings include:
provides protection in travel & dangerous situations

helps you to rectify unjust circumstances

provides insight on how to remedy situations when meditated with

good for health & the intellect

aids common sense

enhances memory & patience

helps you to accept responsibility & to be of service to others

helps you to remember dreams

beneficial for childbirth
Starry Jasper also has the healing meanings that are inherent to any form of Jasper.
Jasper Healing Meaning
Jasper is known as the "Supreme Nurturer". Its energy helps to sustain & support you during times of stress. Continue reading about the Meanings of Jasper.
Information about the Metaphysical Meaning of Stones