Information about the healing meaning of Thulite is included with purchase, as well as a brochure about the metaphysical meaning of healing stones & how to use & care for them.
Thulite is a soft olive green & pink stone that is sometimes mistaken for Epidote. It is also called Clinozoisite, Clinothulite or Rosaline Zoisite.
Thulite Meanings of Healing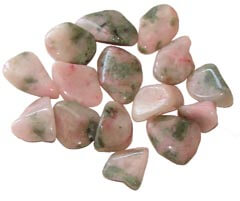 Thulite is noted for its ability to increase or improve upon any aspect of your life such as prosperity, intuition or love. Its pink & green colors are the two colors of your Heart Chakra and Thulite is an excellent stone for working with this chakra & healing heart based issues.
Continue reading about the Meanings of Thulite.
Information about the Healing Meaning of Stones