Information about the metaphysical properties of Tibetan Quartz is included with purchase, as well as a pamphlet about the metaphysical healing properties of crystals & how to use them.
Purchase other kinds of Quartz
Tibetan Quartz occurs in single and double terminators & may have a few "black spot" occlusions within it. It is mined by hand (often by monks) high in the Himalayan Mountains of Tibet which is a very sacred area on earth. Although some are found water clear, most Tibetan Quartz are usually grayish clear or cloudy - almost smoky - due to carbon & hematite inclusions. Tibetan Quartz is considered to be one of the most energetically vibrant crystals on earth.
Tibetan Quartz Metaphysical Properties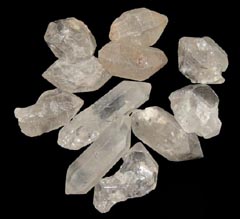 Tibetan Quartz is a very powerful crystal & is considered to be a master healer & teacher. Tibetan Quartz holds ancient energy frequencies & the wisdom of the ancient culture of Tibet & has an almost holy, enlightened vibration.
This rarefied & yet grounded quartz has a strongly centered energy that passes into the body & the personal self, bringing about deep healing & energizing of the subtle bodies.
Other metaphysical properties of Tibetan Quartz include:
shares the ancient wisdom of Eastern cultures about healing & spirituality

helps you understand the reasons past life connections are related to present life or karmic lessons

has a very harmonious & balanced energy

balances your Chakras & meridians

helpful in meditation

can be used to enhance & amplify transformation, releasing self-limitations, disease & disorders

facilitates fasting & abstinence when desired

deepens spiritual meditation & healing practices

has a very high energy & tends to contain a very powerful "OM" vibration

dissolves energy blockages

purifies energies in the aura & environment

a powerful manifestation tool

excellent enhancer and activator of other stones & crystals
Purchase other kinds of Quartz
Information about the Metaphysical Properties of Crystals