Information about the healing meanings of Blue Lace Agate is included with purchase, as well as a pamphlet about the metaphysical meaning of healing stones & how to use them.
Blue Lace Agate Meaning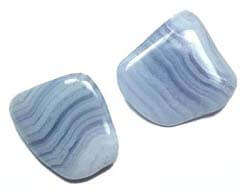 Blue Lace Agate is a wonderful healing stone with a soft and gentle energy. Some of its other metaphysical healing meanings include:
cooling and calming

brings deep peace of mind

relieves stress

activates and heals the Throat Chakra

helps you to freely express your feelings and thoughts

nurturing and supportive

defuses anger

counteracts the repression and suppression of your feelings, especially those that stem from the fear of being judged

helps men to accept their sensitivity and feelings

excellent physical throat healer

relieves shoulder and neck pain

heals infection, inflammations and fever

good for thyroid deficiencies, throat and lymph infections

removes blockages of the nervous system

treats arthritis and problems with bones

strengthens the skeletal system and helps fractures heal

helps capillaries and the pancreas
Blue Lace Agate also has the healing meanings that are inherent to any type of Agate. Read about the Healing Meaning of Agate.
Information about the Metaphysical Meaning of Stones