Information about Botswana Agate healing properties is included with purchase, as well as a pamphlet about the metaphysical healing properties of stones & how to use them.
The Healing Properties of Botswana Agate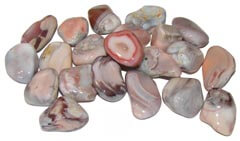 Botswana Agate is an excellent stone for anyone connected with fire or smoke to use and carry on their person. Other healing properties of Botswana Agate stones include:
beneficial for those who want to quit smoking

helps you to find solutions rather than dwelling on problems

helps you to explore unknown territory and your own creativity

mentally, Pink Botswana agate helps you to see the "bigger picture"

gently releases repression

particularly useful in helping the body to assimilate oxygen

helps rid your body of toxins

benefits the circulatory system and skin

aids depression and other nervous disorders, including stress

stimulates the Crown Chakra & strengthens your aura
In addition, Botswana Agate has the same metaphysical healing properties that are inherent to any type of Agate.
The Healing Properties of Agate
Agate itself is a very grounding, centering and stabilizing stone, providing emotional, physical and intellectual balance. It tends to work slowly and gently. Continue reading about Agate Healing Properties.
Botswana Agate Stones for Sale
Other kinds of Agate for Sale
Information about Using Stones for Healing
Information about your Chakra Energy Centers