Information about Chlorite in Quartz metaphysical healing uses is included with purchase, as well as a brochure about the metaphysical healing energy of stones & how to use them.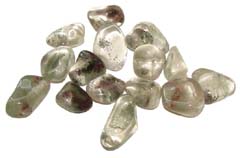 Chlorite minerals are quite common and often coat the surface of other minerals. However, when it forms as inclusions in crystals such as Clear Quartz, it makes the host mineral green and sometimes even has phantom growths. Each one is different and resembles a beautiful underwater coral reef.
Metaphysical Healing Uses of Chlorite in Quartz
Chlorite itself is thought to be one of the most powerful self-healing & regeneration minerals that has a strong connection to Mother Earth. Its cleansing vibration is beneficial for your personal energy field as well as your environment, as Chlorite naturally lifts the vibration of the human organism higher than the lower & denser one of illness.
Green Chlorite in Quartz is a potent healing combination as Quartz is known as a Master Healer and is the most powerful healing & energy amplifier on the planet. The Quartz amplifies the purifying, detoxifying properties of the Chlorite making it one of the very best crystals to use for physical cleansing.
Continue reading about the Healing Uses for Chlorite
Metaphysical Healing Uses of Clear Quartz
Information about the Metaphysical Uses of Stones