Information about the metaphysical healing meanings of Laser Quartz Crystal is included with purchase, as well as a pamphlet about the metaphysical healing meanings of crystals & how to use them.
Laser Quartz Crystal Healing Meaning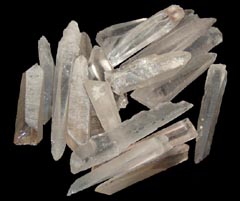 Laser Quartz Crystal is a type of Quartz point that is long & slender, gently tapering towards the termination with small, narrow faces. Often etched on the surface, they are similar to Lemurian quartz.
Laser Quartz is excellent for energy work & a powerful healing tool that should be used with caution. The energy of Laser Quartz Crystals are focused through the tip & they should never be randomly pointed at anyone and only used with clarity of intention. Laser Quartz focuses, concentrates & accelerates energy into a tight beam that acts like a laser.
Other Laser Quartz crystal healing meanings include:
suitable for psychic surgery

detaches energetic attachments, negative or inappropriate ties to other people, attitudes & emotions

can be used for targeted healing

dissolves & removes energy blockages

cuts away negativity of any kind

accesses Lemurian & Atlantian information

facilitates shamanic healing

provides a source of divine white light

focuses protective energy around yourself or others

opens all Chakras

powerfully protects both your aura & physical body
Laser Quartz Crystal Wands also have the Healing Meanings that are inherent to Quartz itself. Read about the Meanings of Quartz.
Information about the Metaphysical Meaning of Stones