Information about Lemurian Seed Quartz healing meanings is included with purchase, as well as a pamphlet about the metaphysical healing meaning of crystals & how to use them.
Lemurian Seed Quartz was only discovered in the late 1900's in sand banks near the Minas Gerais crystal mine in Brazil. What is very unusual about them is that they were scattered & found as individual crystals as opposed to the way they normally occur – in clusters of crystals in caves or areas of rock. Lemurian Seed Crystals were also found a few years later near a crystal mine in the Ural Mountains.
Lemurian Seed Quartz has a frosted appearance & ladder-like striations along the face. Many also have raised triangles of crystal, sometimes called "recorders". It is believed that the inhabitants of Lemuria, or Mu, left their ancient wisdom & information embedded in these Quartz crystals that is much needed by humanity today.
Lemurian Seed Quartz Meaning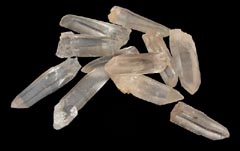 Lemurian Seed Quartz is a powerful tool for enhancing meditation & healing work. Its metaphysical healing meanings include:
emanates a very Yin or feminine energy

contains & transmits messages of equality & unconditional love

promotes self-confidence

strengthens your focus & concentration

powerfully helps you communicate with angels & spiritual guides

the perfect crystal for opening your Heart Chakra

creates deep emotional healing

allows you to connect more to your true self

instills feelings of harmony & ease

excellent for dream work (try going to sleep while you're holding one)

enhances your intuitive gifts

removes energy blockages

opens you to Divine love & compassion

excellent for Chakra clearing & balancing
Lemurian Seed Quartz also has the healing meanings that are inherent to any type of Quartz.
Quartz Metaphysical Meaning
Quartz is the most powerful healing & energy amplifier on the planet. Continue reading about the Meanings of Quartz.
Information about the Metaphysical Meaning of Stones