Information about the healing uses of Rutilated Quartz is included with purchase, as well as a pamphlet about the metaphysical energy of stones & how to use them for healing.
Purchase other kinds of Quartz
Rutilated Quartz Uses for Healing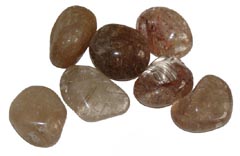 Rutilated Quartz is also known as "Angel Hair" & is an effective integrator of energy at any level. It is a very efficient vibrational healer & its uses include:
illuminator for the soul, promoting spiritual growth

cleanses &energizes your aura

a stone of amplification that can be placed next to another abundance stone to amplify the effects of abundance

aids astral travel, scrying & channelling

facilitates contact with the highest spiritual guidance

draws off negative energy

breaks down barriers to spiritual progress, helping you to let go of the past

helpful for therapists & counsellors as it filters negative energy from a client

protects against psychic attack

can be used in past life healing

supports you during transitions & change

soothes dark moods & acts as an antidepressant

relieves fears, phobias & anxiety

counters self-hatred & promotes forgiveness at all levels

helpful for chronic conditions, as well as impotence & infertility

excellent for exhaustion & energy depletion

treats the respiratory tract & bronchitis

stimulates & balances the thyroid

stimulates growth & regeneration in cells & repairs torn tissues
Rutilated Quartz also has the healing uses that are inherent to any type of Quartz.
Quartz Uses for Healing
Quartz is the most powerful healing crystal on the planet. It's excellent for enhancing the energy of other crystals & raises spiritual energy to the highest possible level. Continue reading about the Healing Uses of Quartz.
Purchase Rutilated Quartz Stones
Purchase other kinds of Quartz
Information about the Healing Uses of Stones