Information about the healing meanings of Tangerine Aura Quartz is included with purchase, as well as a pamphlet about the metaphysical meaning of healing crystals & how to use their energy.
Tangerine Aura Quartz is also known as Tangerine Sun Aura Quartz or Melon Quartz. It's formed when Gold & Iron Oxide are bonded onto pure Quartz crystals.
Tangerine Aura Quartz Meaning of Healing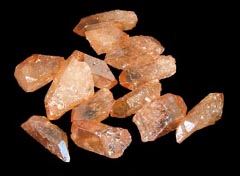 The vibration of Tangerine Aura Quartz heals & opens a blocked or unawakened Third Eye Chakra and is extremely supportive for spiritual exploration. Its other healing meanings include the following:
excellent to use after shock or trauma

can be used for soul retrieval and integration, past life healing

provides healing after psychic attack

can take you beyond a limited belief system to a more positive energy

facilitates visualization and provides profound insight by connecting to a higher spiritual force

helps clear & focus thoughts to bring a creative solution to problems

grounds spiritual vision & manifests it in your everyday life

makes you more responsive & uplifts your spirit

gives you the ability to face life's challenges with composure & cheerfulness

helps you to feel more at home in any environment

promotes a higher sense of self-worth & is beneficial if you are trying to overcome self-esteem issues

removes creative & sexual blocks

disperses dark moods, depression & brings emotional balance

helps your inner beauty shine through

attracts success & wealth

activates & harmonizes your Sacral Chakra, stimulating the flow of creative energy

unites & cleanses your three lower Root, Sacral & Solar Plexus Chakras

stimulates creativity, especially when it's blocked by criticism or disapproval from others

gives you abundant energy

stabilizes the link between your physical & subtle bodies

recharges & invigorates cell function

imparts great physical & psychological strength

enhances sexuality

helps in the assimilation of iron in the blood

stimulates Chi energy & circulation
Tangerine Aura Quartz also has the metaphysical healing meanings that are inherent to any kind of Quartz crystal.
Quartz Meaning of Healing
Quartz is the most powerful healing & energy amplifier on the planet. It's known as a Master Healer crystal that is good for any condition & raises your spiritual energy to the highest level possible. Continue reading about the Metaphysical Meanings of Quartz.
Buy Tangerine Aura Quartz Crystals
Buy other kinds of Aura Quartz
Information about the Meaning of Healing Crystals