Information about the healing properties of Tangerine Quartz is included with purchase, as well as a brochure about the metaphysical healing properties of stones & how to use their energy.
Tangerine Quartz is a unique type of quartz with an iron oxide coating which gives it a transparent orange color. Over time, the combination of Hematite & water in the cavity the quartz crystal was growing created an orange "rust" that bonded to the surface of the Quartz. It is believed that Minas Gerais, Brazil, is the only source of Tangerine Quartz.
Tangerine Quartz Healing Properties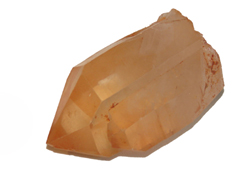 The orange vibrant energy of Tangerine Quartz imparts happiness, confidence & resourcefulness. Your Spleen Chakra is governed by orange energy. The ancient Sanskrit word for this chakra is Svadhisthana meaning "Sacred Home of the Self" & Tangerine Quartz's healing properties are directly related to healing & taking care of your Sacred self.
A crystal of hope, joy & courage, other metaphysical healing properties of Tangerine Quartz include:
activates & harmonizes the Sacral/Spleen Chakra

excellent crystal to use after shock or trauma, both physically & especially at the soul level

helps you to have compassion for & forgive those who have wronged you

helps you to see a loving order in the Universe despite the crazy world we live in & have a more positive vibration

helps you to heal after psychic attack

useful in past-life healing and soul retrieval & integration

helps you to let go of the past, especially if you feel that you've made a mistake that you must pay for – and also find a gift in the experience of releasing your guilt

restores your sense of self-worth

provides insight into what you need to learn, especially when you meditate with it

overcomes fears & gives you inspiration

stimulates your curiosity & creative energy

enhances sexuality & passion

treats infertility or sexual dysfunction

harmonizes your aura's energy

stimulates healing of any dis-ease

eases lower abdominal pain
Tangerine Quartz also has the healing properties that are inherent to any kind of Quartz.
Quartz Meaning of Healing
Quartz is the most powerful healing & energy amplifier on the planet. It spiritually raises energy to the highest possible level. Continue reading about the Healing Meanings of Quartz.
Information about the Meaning of Healing Stones