Instructions about using a pendulum for dowsing included with purchase.
Instructions on Using a Pendulum for Dowsing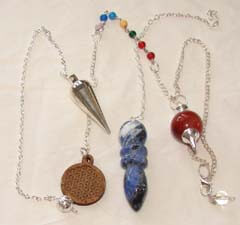 Dowsing, or divination, is an ancient art that was used for finding water & rare metals and connecting with the spirit world. Early doctors & scientists used pendulums to locate infections or weak areas of patient's bodies. Dowsing has survived through time and is still used in our modern day. We have all heard of farmers using a Y-shaped branch to look for water or minerals on their property; or ladies at a party holding a needle or ring on a thread over a pregnant woman to determine the sex of the unborn baby. These are all examples of dowsing and utilizing these energies for answers to our questions.
When held properly, a pendulum reacts to your subconscious via small different nerve reactions in your fingers that are generated in response to your question(s). These transmissions affect the chain and in turn the weight, causing it to move in different directions or patterns. It's a metaphysically scientific way of communicating with your inner & higher self and getting answers to questions your conscious mind doesn't know or understand.