Information about the healing properties of Tourmalinated Quartz is included with purchase, as well as a pamphlet about the metaphysical properties of healing crystals & how to use them.

Tourmalinated Quartz Properties of Healing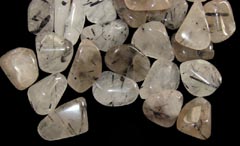 Tourmalinated Quartz brings together the best properties of Quartz & Black Tourmaline. Its metaphysical healing properties include:
an effective grounding stone

strengthens the body's energy field against external invasion

deflects detrimental environmental influences

dissolves old, set patterns

releases tensions at any level

harmonizes disparate and opposite elements & polarities

turns negative thoughts & energies into positive ones

helps you find solutions to problems

helps to integrate & heal shadow energies

alleviates self-sabotage

releases tension at any level

harmonizes the meridians, subtle bodies & Chakras
Black Tourmaline Properties of Healing
Black Tourmaline protects you against cell phones, electromagnetic smog, radiation, psychic attack, ill-wishing & negative energies of all kinds. Continue reading about the Properties of Black Tourmaline.
Quartz Properties of Healing
Quartz is known as a Master Healer and is the most powerful healing and energy amplifier on the planet. Continue reading about the Healing Properties of Quartz.
Information about the Properties of Healing Crystals