Information about the healing meanings of Green Phantom Crystal is included with purchase, as well as a pamphlet about the metaphysical healing meanings of crystals & how to use them.
Buy other kinds of Phantom Crystals
What is a Green Phantom Crystal?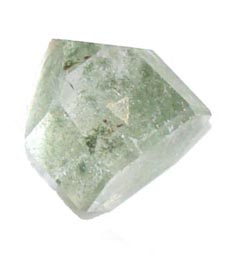 Occasionally during the growth of a few quartz crystals, layers of other minerals are deposited, resulting in an internal "phantom crystal". In the case of Green Phantom Quartz Crystals, the mineral is Chlorite.
Green Phantom Crystal Meaning - Healing
Chlorite has a very powerful & positive healing vibration with a strong connection to Mother Earth. Beneficial for your personal energy field as well as your environment, it helps you to feel balanced & connected with Nature. Continue reading about the Healing Meanings of Chlorite.
Phantom Crystal Healing Meaning
Due to its extremely slow formation, a Phantom Crystal has absorbed its knowledge & learning over eons of time. Its healing energy helps you put the past into perspective & point the ways towards personal & spiritual evolution & growth. Continue reading about the Meanings of Phantom Crystals.
Quartz Metaphysical Meaning
Green Chlorite in Quartz is a potent healing combination as Quartz is known as a Master Healer and is the most powerful healing & energy amplifier on the planet. The Quartz amplifies the purifying, detoxifying properties of the Chlorite making it one of the very best crystals to use for physical cleansing. Continue reading about the powerful healing energy of Chlorite in Quartz.
Buy other kinds of Phantom Crystals
Information about the Metaphysical Meaning of Crystals